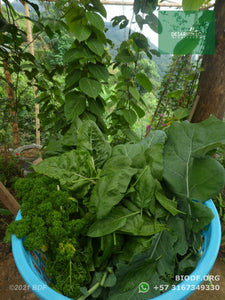 Espinacas - Spinach (orgánica)
La espinaca (Spinacia oleracea) es una verdura de hoja verde que se originó en Persia.

Pertenece a la familia del amaranto y está relacionado con la remolacha y la quinua. Es más, se considera muy saludable, ya que está cargado de nutrientes y antioxidantes.

Comer espinacas puede beneficiar la salud ocular, reducir el estrés oxidativo, ayudar a prevenir el cáncer y reducir los niveles de presión arterial.

La espinaca es baja en carbohidratos pero rica en fibra insoluble. Este tipo de fibra puede beneficiar su digestión.

La espinaca es una verdura extremadamente rica en nutrientes. Contiene altas cantidades de carotenoides, vitamina C, vitamina K, ácido fólico, hierro y calcio.

La espinaca cuenta con muchos compuestos vegetales que pueden mejorar la salud, como luteína, kaempferol, nitratos, quercetina y zeaxantina.

Las personas propensas a los cálculos renales pueden querer evitar las espinacas. Este verde de hoja también es muy rico en vitamina K1, lo que puede ser un problema para las personas que toman anticoagulantes.
English
Spinach (Spinacia oleracea) is a leafy green vegetable that originated in Persia.
It belongs to the amaranth family and is related to beets and quinoa. What's more, it's considered very healthy, as it's loaded with nutrients and antioxidants.
Eating spinach may benefit eye health, reduce oxidative stress, help prevent cancer, and reduce blood pressure levels.
Spinach is low in carbs but high in insoluble fiber. This type of fiber may benefit your digestion.
Spinach is an extremely nutrient-rich vegetable. It packs high amounts of carotenoids, vitamin C, vitamin K, folic acid, iron, and calcium.
Spinach boasts many plant compounds that can improve health, such as lutein, kaempferol, nitrates, quercetin, and zeaxanthin.
People who are prone to kidney stones may want to avoid spinach. This leafy green is also very high in vitamin K1, which can be a problem for people on blood thinners.