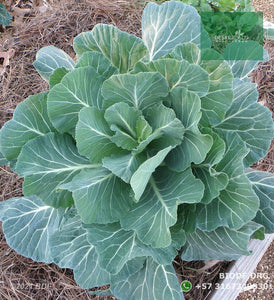 Georgia - Collard (orgánica)
Las coles de Georgia son apreciadas por su sabor dulce a repollo. Las hojas están rizadas y de color azul verdoso. Las hojas saben mejor cuando son jóvenes. Rica en vitaminas y minerales. Crece mejor a pleno sol, pero tolera la sombra parcial e incluso la aprecia en primavera en climas cálidos. Resiste el clima frío; la escarcha hace que las hojas sean dulces. Genial para el otoño.
English
Georgia collards are prized for their sweet, cabbage-like flavor. Leaves are ruffled and blue-green. Leaves taste best when young. Rich in vitamins and minerals. Grows best in full sun, but will tolerate partial shade and even appreciates it in spring in hot climates. Withstands cold weather; frost makes leaves sweet. Great for fall.